RC202 WALL SWITCH RECEIVER
Power: AC120V(60Hz)
Rated: ≤600W
The receiver will cut the power after working for 4mins continuously
The receiver can be controlled by 15 remotes at most
The receiver's UP/STOP/DOWN buttons can also control the motor
The receiver has A & B channels. Each channel can control 1 motor

NOTES: Channel B is used as an example to explain the receiver's operation. Channel A's operation is the same.

Remote B can control the tubular motor after it learns code from remote A

Note: All the remotes will not control this motor, unless you cut off the power and do code learning again.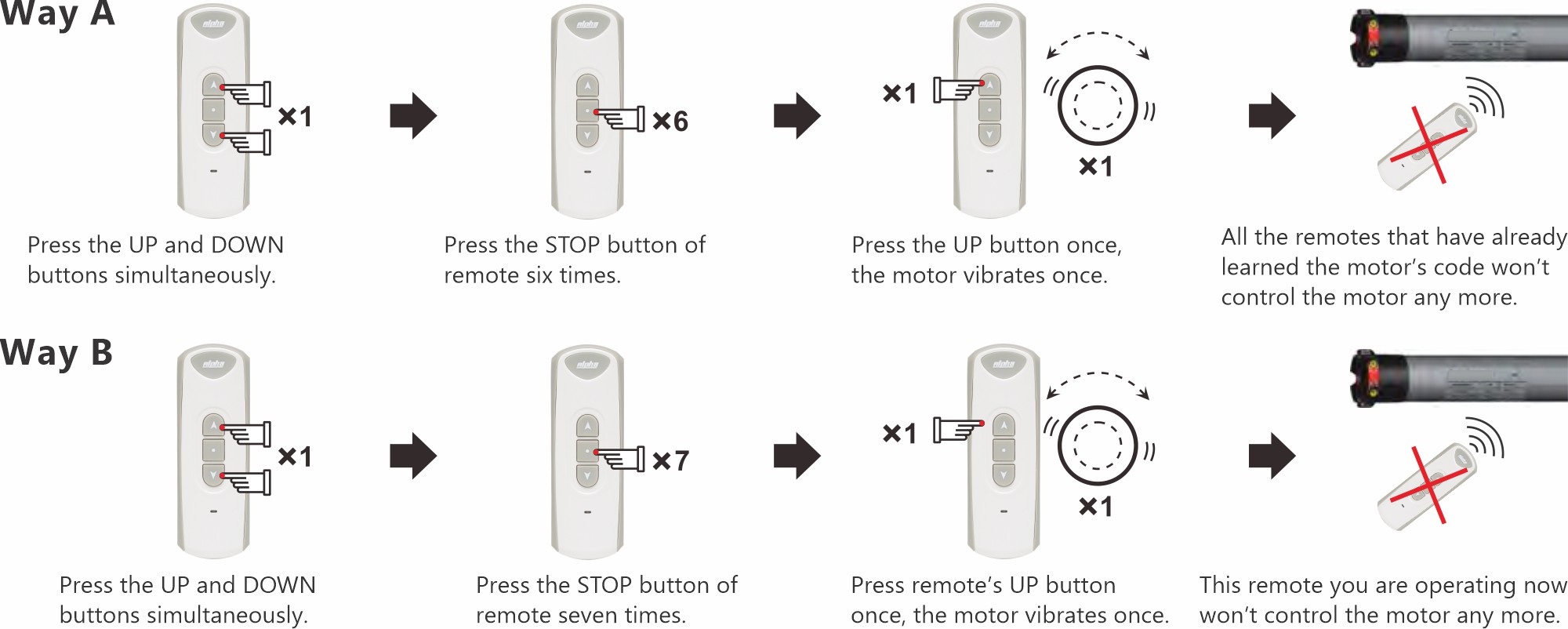 SET STEP BY STEP FUNCTION

Note: If the motor runs step by step, long press remote's UP or DOWN button for 3 seconds, the motor will run continuously.
DELETE STEP BY STEP FUNCTION

ANNOUNCEMENT
Setting may fail due to the interference of signal. If this happens, please reset.
The remote RE101 is taken as an example in this instruction. The receiver is compatible with several other rolling code remotes.
Please do not press buttons for too long in case life span of battery declines. Pressing time should be at 0.5s with 1s interval. If the battery is in low power, please replace battery.
The control unit is of high voltage. Please do not place it in humid atmosphere.
Children should be supervised to ensure that they do not play with the appliance.
Ambient temperature: -10℃ to +55℃
Product's appearance, color, function etc is subject to change. This information is subject to change without notice.