WSERD50 15/12 – zip systems & straight drop awnings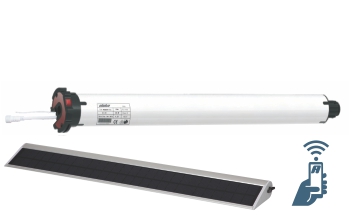 For use with the TYB002 solar panel with internal battery storage.
Suitable for zip systems up to 15ft wide x 8ft drop.
Torque stop function for tensioning, or for use with stoppers.
WSERD50 instructions – click here
Product Description
This unit is recommended for use with 50mm DC motors. It's a solar panel with 4400mAh storage capacity using rechargeable Lithium batteries. The batteries will be fully charged in 80 hours of direct sunlight, and when full, will hold enough charge for about 50 days of normal operation without further charging. In the event that the batteries are depleted by excessive use or poor solar panel positioning, the batteries can be recharged in a few hours by connecting an external charger to the unit.
3rd intermediate limit position
Low power consumption
Soft start and soft stop
Electronic limit switch
Optional power source – TYB002 Solar panel and battery pack. 3m extension cables are available.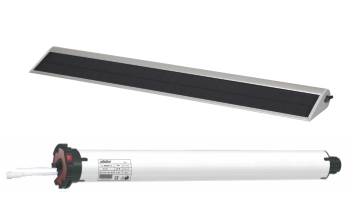 | 120V/60Hz | Type 15/12 |
| --- | --- |
| | |
| Rated Torque (N.m) | 15 |
| Output Speed (rpm) | 12 |
| Nominal Consumption (W) | 96 |
| Nominal Voltage (V) | 12 |
| Nominal Current (A) | 8 |
| Protection Index (IP) | 44 |
| Total Length (in) | 22.24 |
| Maximum Turns | infinity |
| Net Weight (lb) | 4.50 |




WSERD50 15/12 – zip systems & straight drop awnings
WSERD50 15/12 – zip systems & straight drop awnings