WSER50OD 30/16 obstacle detection for zip style systems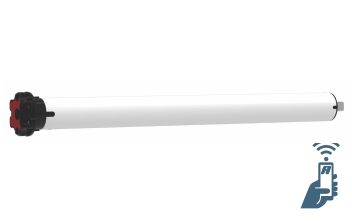 Obstacle detection in both directions.
Will differentiate between an obstacle and wind, and react accordingly.
Designed specifically for zip style systems and guided external blinds.
WSER Universal Instructions – click here
Product Description
Obstacle detection motor with star head.
This motor has a star head to suit many common mountings and is ideal for zip systems.
It incorporates obstacle detection in both directions so that it can stop on stoppers at the top limit if necessary.
If, on the way down, the motor detects that the bottom bar has stopped moving in the channel due to getting stuck or hitting an object, it will rebound to a higher point and attempt to go down again.
After attempting this 3 times unsuccessfully, it will return to the rebound position and stop.
45mm diameter
Power Specifications – 120V / 60Hz
Electronic Limits
Built in Remote Receiver
Wireless limit set up
External antenna
Suitable for: External Zip Systems
Warranty: 7 year replacement
| 120V/60Hz | Type 30/16 |
| --- | --- |
| | |
| Rated Torque (N.m) | 30 |
| Output Speed (rpm) | 16 |
| Nominal Consumption (W) | 186 |
| Nominal Voltage (V) | 120 |
| Nominal Current (A) | 1.60 |
| Running Time (Mins) | 4 |
| Protection Index (IP) | 44 |
| Total Length (in) | 23.62 |
| Maximum Turns | infinity |
| Net Weight (lb) | 5.40 |




WSER50OD 30/16 obstacle detection for zip style systems
WSER50OD 30/16 obstacle detection for zip style systems