WSER50 50/16 Universal – retractable awnings & roller shutters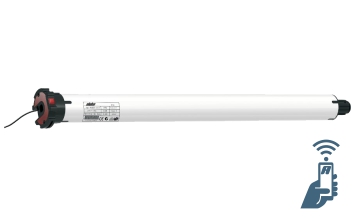 Product Description
The WSER50 series Universal motors are a premium motor designed specifically for external straight drop products.
Due to the torque stop function, this motor is ideal for all external drop screen systems. This protective feature can be used to stop on stoppers at the top limit in side channel systems and can also be used to tension the fabric when the shade is down. A top limit is set normally and the torque stop function can be used in conjunction.
ELECTRONIC LIMIT SETTING, WITH BUILT-IN REMOTE CONTROL RECEIVER
45mm diameter
Power Specifications – 240V / 50Hz
7 year replacement
Electronic limits
Built in remote receiver
Wireless limit set up
Suitable for: Large internal Blinds, Most External Drop Blinds, and Roller Shutters
This motor is fast, quiet, and perfect for when you want to be able to lock in and tension the blind. Our most popular motor for all types of external drop blinds. Lifts up to 17kg (bottom bar and skin).
| 120V/60Hz | Type 50/16 |
| --- | --- |
| | |
| Rated Torque (N.m) | 50 |
| Output Speed (rpm) | 16 |
| Nominal Consumption (W) | 280 |
| Nominal Voltage (V) | 120 |
| Nominal Current (A) | 2.40 |
| Running Time (Mins) | 4 |
| Protection Index (IP) | 44 |
| Total Length (in) | 24.80 |
| Maximum Turns | infinity |
| Net Weight (lb) | 5.84 |






WSER50 50/16 Universal – retractable awnings & roller shutters
WSER50 50/16 Universal – retractable awnings & roller shutters